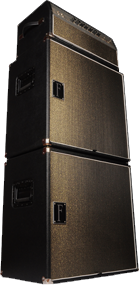 Welcome
We offer the most comprehensive source of parts for the restoration and repair of both vintage and modern Ampeg amplifiers. We also offer a full line of services including: amplifier repair, speaker repair and re-coning, cabinet refurbishment, and custom cabinets. You'll also find that this site is chock full of useful information to help with your selections.
Fliptops is also now proud to offer our own line of high end speaker cabinets including the new 810N stack cabinet system. Made in the USA.
Hey, we know you can never own just one amp, so we are also offering a selection of parts serving other classic amps such as Fender, Marshall, Vox, Sunn, Hiwatt, Traynor and many more. You can order online via our secure system or give us a call. We ship worldwide. Thank you for visiting and we look forward to helping you with your parts needs.